Wellness Wednesday
Because there is a direct correlation between what chemicals we are exposed to and our health, I wanted to tell you about some natural cleaning products that I won in an online contest.  Forgetting that I had even entered a giveaway, I was totally surprised by the email that said I had won. The products sent to me by Fabulous Candles, came yesterday just as I was about to clean my bathroom.  What timing!  I have tried various "green"  home products and naturally-based cleaners before, but I've never found them to be fantastic…excuse the pun there.
The two attractively packaged bottles (my favorite cobalt blue) came in a green drawstring pouch.  So, from the beginning, I knew they were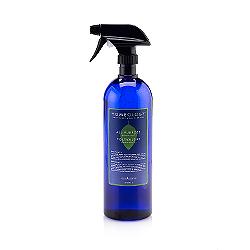 special, or at least appeared to be.  A generous 35fl oz bottle of the Homeology All Purpose Cleaner , $11.98 was the first one I used.  The immediate thing that took me by surprise was the almost therapeutic affect that the Rosemary/Mint scent had on me as I sprayed it on my bathroom sink.  Aromatherapy Cleaning!  What a wonderful concept!  I then understood the company's words that are proudly displayed right on the bottle: "Purify your environment and inspire your mind.  Natural, plant-based, earth friendly.  Breathe freely, clean happily."  Oh, yeah, as far as the quality of the cleaning, it was excellent – no compromises in effectiveness.
I'm impressed.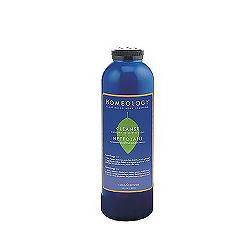 The next product I used was the Mandarin Eucalyptus Clove Cleanser, $8.98.  With my love of all things eucalyptus because of the Migraine issue, I instantly fell in love with the fresh, calming aroma.  Who'd have thought that you could actually nix a headache while scrubbing your sink.  It literally makes me want to do my chores; I didn't think there was anything on this earth that could do that.  My sink was happily clean; I was happily calm and enraptured in the smellorama.
Product Safety
I am equally thrilled about the fact that if my active, curious Missy Moo (toddler girl) ever had an encounter with these cleaners, she would not be in danger of poisoning.  Common sense tells us to never allow your your children to have access to home products, but because things can happen, non-toxic formulas are still this  mom's peace of mind.  It's not just accidental ingestion that you should be concerned about either; it's fumes from chemicals that can easily enter to body just by taking a breath.  With a promise of no toxic ingredients, Homeology products are a safe choice for everyone, even those who are sensitive to smells or tend to shy away from cleaning because of allergies.
I'm looking forward to trying some of the other Homeology products offered by Gold Canyon.  Don't forget to visit the site and check out all of their other aromatherapy delights!  Be well-be beautiful.