No matter what kind of home business you run, it's important to consider how your online habits can improve and spread your message or do the opposite. It's also important to consider how your online outreach is developed. To begin with, you have likely developed a website by using templates on apps like Squarespace with WordPress to begin your small business journey. Though there is nothing wrong with this, it could be time to move beyond this simple setup. Let's take a look at a few ways you can improve your small online business.
Utilize Social Media
Once you have a web presence established with a website, social media presence and engagement can be your business's best friend. Business pages are a good way to promote your brand, but they can lose momentum over time. This has a lot to do with trends and the endless changes and new platforms popping up. It pays to be aware of where your ideal customers and clients are hanging out and what they respond to. Pay attention to how much engagement you generate with each platform and type of post. Keep track of your stats and use them to make changes and get better at social media posting.
Improve Onboarding for Clients
Sure, right now you may not be able to curate many more clients, but it's good to make the onboarding experience better for them in the future regardless. This can lead to a better explanation of your services. Also adding a modular package tier or use the common questions you've gathered to make an FAQ section on your website. This way, those who look to your business will be more likely to take that additional risk in the best way.
Grow Your Portfolio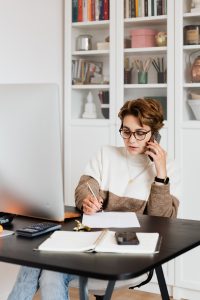 A growing portfolio can be a fantastic addition to your website and be used on social media as well. This is especially true if you've been in business for a while and have earned plenty of satisfied customers. Testimonials can serve as anonymous tributes to the work you've achieved. New ones can be acquired fairly easily if you offer a temporary discount on your services or other incentives.
Other work can be shown to help you properly showcase how your projects have been properly managed. For example, showing your logo work as a freelance graphic designer with the client's permission, or examples of your content writing prowess or dresses you've crafted and sold online. This can add veracity and magnetism to your brand.
Virtual Office Addresses
Virtual services that can scan and keep your mail accessible at any time of day can be incredibly helpful. This serves as a virtual receptionist able to provide you secure access to your most important correspondence at the drop of a hat, ensuring you miss nothing. An approach like this can also ensure that your home address is never compromised, as the virtual address looks professional while subverting the need for a PO box space. 
Improving a small online business can be accomplished with some simple changes or additions to your current plan. You can make these changes gradually or do them all at once. I recommend tracking your investments and how they affect your sales and lead generation. Do what gets you results and pushes your business forward.