Most humans like a little change now and then. And though you might not be ready for life-changing makeovers, I recommend considering some type of change to keep life fresh. Truthfully, bringing new things into your life can help you to feel happier and more connected to your goals and dreams. Today, we're going to talk about 3 areas of life that you can start making over today. 
Physical Makeover
There are obviously many ways you could conduct a life-changing makeover for your physical appearance. Some common ways are changing your body through a weight or fitness shift, facial changes with makeup, a smile makeover, or cosmetic surgery or procedures. Any of these things can boost confidence, improve appearance, and help social connection.
Make sure that you consider any of these changes carefully before you do anything. Change always has a price, whether it is financial, time, emotional, or physical work. In other words, know what you're setting out to accomplish and what it's going to cost you in all ways.
Make Simple Physical Changes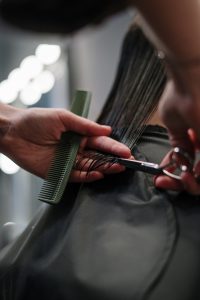 Remember, you don't have to do anything drastic to make a positive physical change. For example, you can use a new shade of lipstick to make your new hairdo pop. How about adding a few new pieces to your wardrobe that enhance your body type? One of my favorite changes that made me feel and look so much better was improving my posture. 
Organization Makeover
Sometimes a makeover is not about your appearance. Instead, it might focus on your surroundings and your relationship with the space in which you live. If you wake up every day and feel dissatisfaction with the clutter in your home, an organization makeover is in order.
Begin the process by tackling the room that you use the most. Walk through the room and put everything that does not belong there into an empty laundry basket. After culling the clutter, assess your space. Is there a place for everything you want to keep in that room? If not, determine the ideal place for each un-homed item. You may need to purchase key hooks, baskets, or drawer dividers, depending on the needs you have when using that room. 
Now, it is time to put everything in its place. Take an extra step and clean under and around your possessions as you organize them. Continue placing things in your laundry basket as you continue the process. This is a perfect opportunity to donate and recycle unwanted items. Once you are finished with one room, be determined to keep it clean and orderly.
Watch this video to learn about the Touch It Once strategy for better organization and productivity.
Career Makeover
If the days your job made you smile are over, it could be time to make some changes in your career. Though this topic has a broad spectrum of possibilities, let's discuss several actions that will help you get clear, feel more confident, and move forward.
First, take an inventory of what you want to get out of your career. Think about things like money, time, satisfaction, contribution, and what does or does not work for your lifestyle. How far is your present career from this list? You might also benefit from a heart-to-heart conversation with your boss about how you could get more satisfaction from your job. Who knows, there might be a new position to move into.
Also, consider making some slight changes like working on your professional appearance to gain some traction with the higher-ups and clients. Brushing up on your skills and knowledge has the potential to boost your value in the company as well.
If you're in the market for a new position or career shift, don't be afraid to look around and network with other professionals in your field. Simply being aware of what options exist could set you on a new, interesting path to a brighter future.
If you decide to take on any of these life-changing makeovers, do what works for you. Take time to consider what you want to get the best results. It's up to you to take charge and create the change you want to see in your life.