Keeping your bones in the best condition possible throughout your life is an important part of health. Without healthy bones, life can get pretty rough as we age. Pain, fractures, and other illnesses can set in as bone mass deteriorates. While many services exist that boast the ability to therapeutically improve bone and joint health, such as a visit to a chiropractor, it's always best to educate yourself about how to keep your bones strong. To get you started, here are 4 musts for bone health at any age.
Bone Health at Any Age #1:

Get Some Exercise
Exercise has been proven to strengthen the bones and improve overall density. Make sure you're taking part in an exercise that you really enjoy, as you'll stay consistent this way. It should never feel like a chore to you. Resistance training is great for bone health, but don't neglect cardio as it's good for your heart.
Bone Health at Any Age #2:

Take Supplements
Supplement your diet with the right vitamins and minerals to ensure you're getting everything you need on a daily basis. Just make sure they are safe first and suitable for you. I recommend consulting your doctor or nutritionist about what type of supplementation you need for your age.
Bone Health at Any Age #3:
Don't Smoke
Smoking is bad for everything in your body. Even your bones suffer when you smoke. Every cigarette you smoke literally shortens your life. Additionally, smoking lowers your estrogen levels. This hinders your body's ability to hold onto calcium. And since women naturally produce less estrogen as they age, smoking increases their risk for osteoporosis and other bone diseases.
Bone Health at Any Age #4:
Spend A Little Time In The Sun
While spending too much time in the sun can damage your skin, especially during hot times, spending a healthy amount of time in the sun is important. Because sun exposure is the best way to get natural vitamin D, try to get about 10 to 20 minutes outside a day. Vitamin D is a key component in processing calcium and, therefore, promotes healthy bones. Check out the infographic below for some interesting info on bone mass: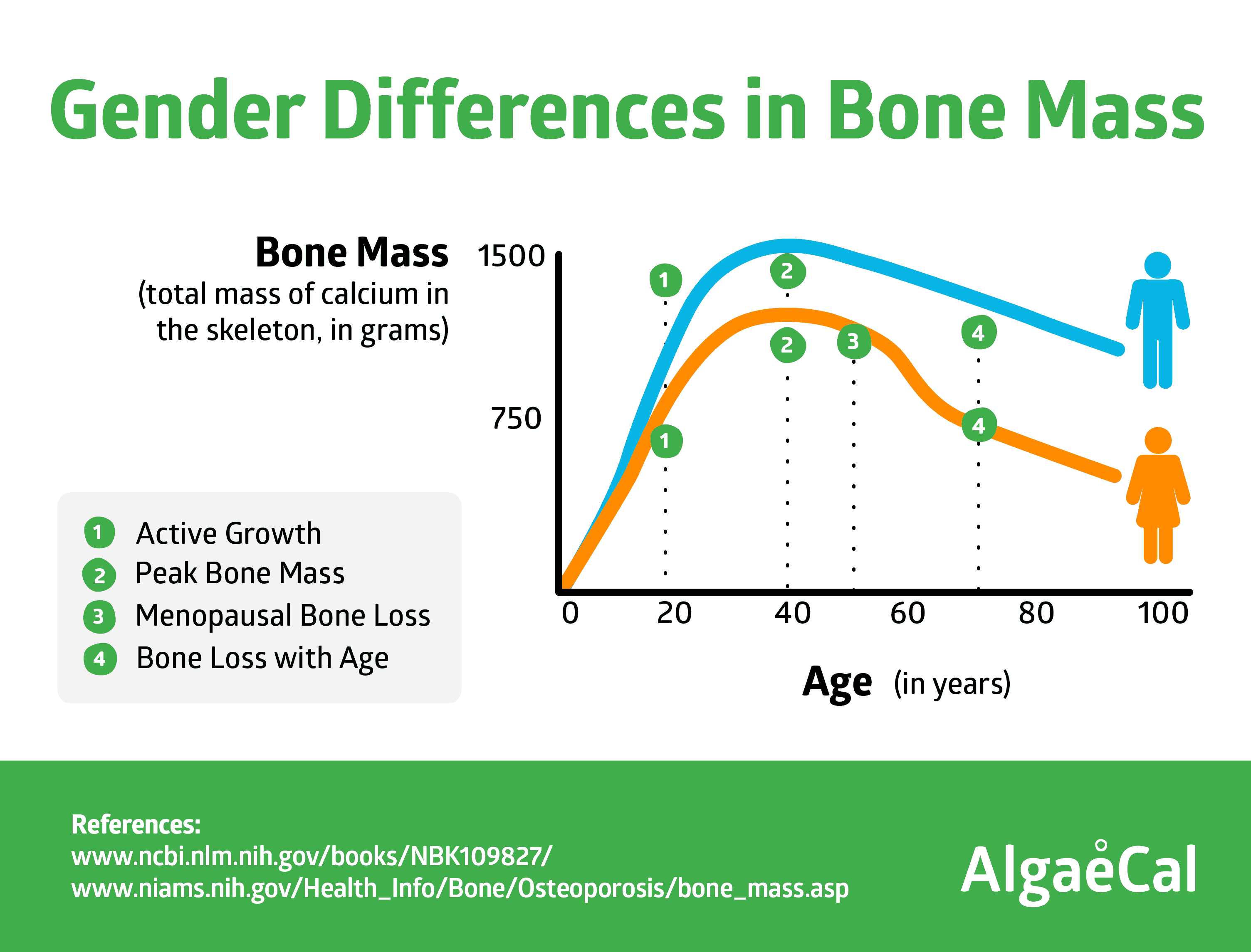 credit to AlgaeCal's Gender Differences in Bone Mass Infographic
**** This post is strictly informational and is not meant to replace the advice of your health care provider. Women's lifelink, it's owners, administrators, contributors, affiliates, vendors, authors and editors do not claim that this information will diagnose, treat, or improve any condition or disease.