Whether you're running a small business or have a strong reputation as one of the best in your industry, you cannot expect things to stay the same forever. As popular as you might be, other businesses will emerge, and there could be new competition. If you want to maintain your place in your industry (and even beyond) consider how this will happen.
One of the best ways to offer more in a changing market is by diversifying your services. This is the process of providing more services besides your initial ones. So what are the benefits of diversification? Here are five to consider. 
You Can Reach New Markets
The primary benefit of diversification is your ability to reach new markets. If you feel like you have done all you can in one area, entering new markets gives you the chance to establish your company and grow organic business connections and sales. Of course, this is not as straightforward as it sounds, and you will require a solid go-to-market or GTM strategy before you make the move official. It will require plenty of research and careful planning, but the results and benefits could be hugely profitable for your business and allow you to achieve even more than you initially planned for. 
You Can Maintain Steadier Sales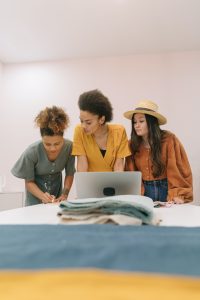 No matter what your business is, it is bound to experience a sales slump at some point. While most companies overcome such slumps with patience and implementing strategies, there is always the risk that things won't get back to normal. By diversifying your services, you can add another shield against sales slumps. This also allows you to maintain a steady stream of income throughout the year, especially if the downtimes are seasonal.
It Will Help Your Business Grow 
If you're focused on growing your business, diversification is an open door to reaching new customers and markets. This is considering the fact that every product or service reaches a point where consumers have outgrown their need for it. Through diversification, you give your business the chance to continuously appeal to the same customers and new customers alike. This growth could allow you to expand your current product/service line even more. 
It Establishes Greater Credibility
If you show your company is adept at one product, it will be easier to prove yourself with new products. The more you offer, the more customers you'll attract naturally through searches, referrals, and advertising. Consider Amazon, which began its life selling books and now provides nearly everything you could ever need. While it is unlikely that your business will match this type of success, it gives you an idea of what could happen over time and the appeal of new products and services.  
You Can Offer More Employment Opportunities 
The final and perhaps most important element of diversification is the employment opportunities that it offers. As your business grows, so does the demand, and you'll likely need help. This opens doors for others in your community to find work. With this new venture of diversification, you can either hire more employees to manage overflow or you can focus on employee development to ensure they are prepared for new responsibilities. With every new product and service, you increase the number of opportunities for employees to prove themselves and you create new jobs at the same time. 
Something New 
It's no secret that consumers get excited whenever something new comes to market, and diversifying your business is no different. If you feel like you have plateaued, diversifying your offerings is a fantastic way to encourage progress and maintain your position in your industry.