In these trying times, you might be looking for a way to supplement your income. Starting a business or side hustling are two great ways to make some extra money. For example, if make jewelry, consider selling it online. If making statement jewelry is your thing, these beloved pieces could earn you some real attention as a unique business owner. However, you most likely have questions such as "Where should I sell my jewelry online?" And, How do I get started? Well, here are some tips and the best places to sell jewelry online.
Getting Started
First, decide what types of items you want to sell, for example, custom pieces, vintage/antique, precious gems, silver work, etc. Once you figure that out, it's time to think about to whom you want to market to. This helps you decide on specific items to sell and how to present them. Your copy and marketing needs to speak to your ideal customers.
Next, figure out where to sell your products. There are plenty of platforms out there on which to feature and sell jewelry, but I recommend that you do some research first. Check out reviews on popular websites to rate each one's reputation in the industry. Look at the sale patterns for businesses like yours.
Quality Platforms
Again do your research and choose the best platform for your specific needs as a seller. Generally, you can find a lot of info about business/eCommerce online. I do suggest that you find specific articles. For example, there is a lot of advice here about watches. Even if you don't think you'll specialize in a certain product, it helps to have a well-rounded understanding of the market.
Here are six quality platforms to try!
Etsy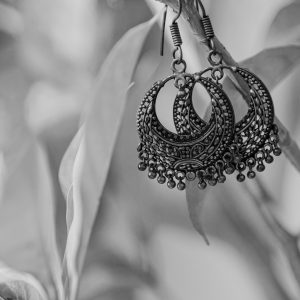 Etsy is one of the best options if you're selling vintage, handmade, or custom jewelry. This platform is widely known for being quality, reliable, and offers a wide variety of products. It's easy to target your niche, and you can even buy add space to get your listings noticed. Etsy can complement another platform or your website. I love using Etsy to find unique items and have also sold things there!
Amazon
Amazon, as one of the biggest eCommerce platforms in the world, could be a good option for you. Depending on how you want to set up your business, Amazon could warehouse your items and ship them out for you (for a fee, of course). Even if you're making handmade jewelry pieces, Amazon has a small section of independent local and handmade sellers. One of the negatives would be that you're competing with so many others.
eBay
Like Etsy, whether you're getting second-hand, handmade, or even buying jewelry wholesale, this could be an excellent platform for selling your items. Remember that you may be limiting yourself by using only eBay as an option. It is, however, ideal if you're only focused on selling secondhand or antique jewelry pieces.
Your Website
Utilizing your website is one of the best ways to present your business and sell products. This builds your brand and credibility in the market. Fortunately, it's easy to create your website with providers like Shopify, WooCommerce, Square Space, and many more.
Facebook Marketplace 
Facebook Marketplace is a popular place to sell crafts, as well as new and used items. It is especially helpful for those who want to target locals. There are some pros and cons to this, such as keeping all the money you made (no fees). However, this could mean more negotiating and having to meet up with customers. It's not everyone's cup of tea, especially if you're focused on creating a professional business. 
Instagram's Shop Page
Instagram Shop is a way to create social media posts of your products and add a shop tag. However, you will need to connect your Instagram Shop to your website. Technically, Facebook has the same feature, but your Facebook business page and the Instagram page will need to be linked for the products to show.
As with any business, there will be a trial and error period to find what works best for you and your business. Keep track of your online stats, sales, and traffic. Use this information to create posts and tweak your offerings regularly. Good luck with your jewelry business!