The majority of people who use social media platforms like Instagram don't have an agenda or goal in mind. It's simply fun and a way to connect to others you would never meet otherwise. And, let's face it, it's a part of our modern society to be fluent in SM. That said, Instagram and other widely known platforms also offer businesses an excellent place to find leads, sell products, and network with those who can help them. Whether you are a hobbyist or an entrepreneur, building your business, there are some ways to boost your social media attention and following.
Personally, I appreciate when others take care to post interesting, quality content and images. Though things don't always have to be perfect, the effort shows and is especially important if you do have a money-related reason to be there. Though all of the things I'm going to share can be applied to either personal or business, I want to focus on some quick tips for entrepreneurs.
Outsourcing or Hiring Help
Handing multiple social media accounts for a busy owner can be a nightmare. Trust me, I've done it, and I don't think I slept much that year. I learned a few things about outsourcing and worked with some good people to help me out.
You may not know this but there are Instagram management services, as well as virtual assistants, social media coaches, and many more sources for HELP! Also, it might benefit you to hire an employee to handle this part of your business as a part of his or her responsibilities. Do keep in mind, this person could even work remotely.
Use the Best Quality Images You Can
Phone cameras have become off the chart amazing over the past few years, in fact, there are a few mobile phone photographers who sing the praises of 'the best phone you have is the one in your pocket'. Though that might be true, as a business owner, you do want to present the best image and images you can. That means using the highest quality photos and graphics. I do understand having a low budget, though. Therefore, I learned to do the best I could with what I had. If you can't hire a pro to do your photos, you can always get a decent camera yourself and learn the ropes as you go.
Always Edit Photos
Not only have phone cameras improved, but the amateur photo editing programs available today are outstanding for beginners. I don't know what I would do without PicMonkey. These types of programs are easy to use and can give you pro results without the expense. They even offer some advanced editing for those who want to do more.
Of course, if you're Photoshop savvy, the sky is the limit with your images. There are also some amazing mobile photography apps, such as Afterlight, Snapseed, and VSCO. They all offer functions that make editing fun, fast, and easy for anyone.
Use Color and Brand Themes 
A business needs to have a brand that people recognize in everything it does. This means sharing content, images, and visual interest that lines up with that business. Try to use similar colors and themes when posting. Use a watermark or logo with all of your images that tell everyone who posted an image. This is helpful when things get reposted, shared, or go viral. After all, you don't want thousands of people to see your beautiful images and content but not know who you are or how to contact you.
Be Consistent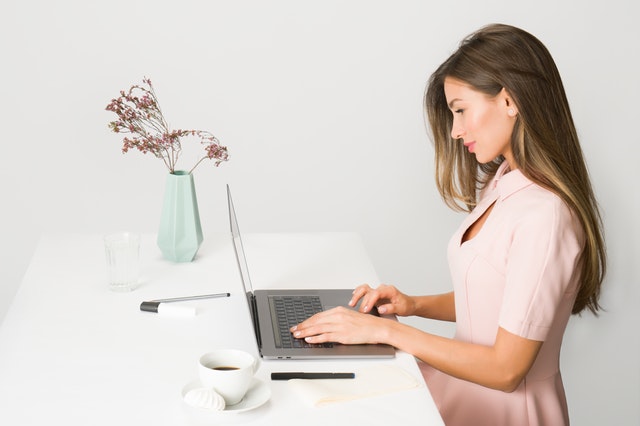 Posting regularly is the primary way to gain momentum on social media accounts such as Instagram. When more people see your posts and interact, you are deemed as more relevant for people who express the same interests as those engaging. However, more posting means your time will get taxed. If you aren't sure you can manage that by yourself but aren't ready to outsource, consider an Instagram planner like Planoly.
Share to Bring Value, Interact to Connect
Social media is a give and take process just like any other form of communication- that is if you want to be seen as a quality business and human. Those who only post perfect selfies and content that brag or put down others are not going to get the quality attention that brings in business. Yeah, the occasional quick lifestyle selfie is fine, but you better be posting some quality images and content that brings value to your followers.
Posting tips and content that show your unique experience, skills, and business focus help to attract your ideal customers and clients. People are always looking for things to help them live a better life or do something faster or cheaper. Get creative and bring your best self and content to the SM table.
Additionally, look for new accounts or people to follow and engage on posts that you really enjoy. Do this with the intention to give and be a real person who cares about others. I follow and connect to individuals and businesses that are real and show some vulnerability as well. I think this helps us to relate and feel as though we are not alone in the world. Have fun and be always be YOU!