Did you know that 30% of new businesses fail within two years and nearly 50% within the first five? Furthermore, over 60% close their doors within 10 years, according to the U.S. Small Business Administration. Some even fail within the first six months. That said, it doesn't mean you have to be one of those unfortunate statistics. Planning well in advance of your startup can make a difference in where you end up. Of course, there is never a guarantee a business will succeed in the long term, but you can do some things to help it along. Here are some of my top things that build a strong foundation for a startup business.
Know the Type of Company You Want to Be
The type of company you choose to operate as will affect many things, especially how you pay taxes and the legal responsibility you have. As a sole proprietor, you are able to take all the post-tax income that is made but are also solely responsible for all the financial dealings.
Of course, there are many considerations before making any decisions. I recommend consulting with a financial expert, attorney, or business consultant before starting an LLC, LTD or PLC or INC company. All of these are different and have varying degrees of legal standings, accountability, and responsibilities.
Name Your Business Wisely
Naming your business has more to do with what you do and who you are than you think. After all, this business is your baby. It's a reflection of who you are and what you do best. Or, at least, it should be. This is what branding is all about. If you want to stand out in the market, a memorable name that says something about what your business is will be much more successful.
Though it's tempting to come up with a clever name that is different, do consider how it will be perceived and understood. You can do this more successfully if you add a definitive tagline or second word that is clear. For example, if you have a graphic design business and call it just Purple Moon, no one will know what the hell you do. But, if you add the words Graphic Design Wizards to that, you have said clearly what your business is about.
Have a Business Plan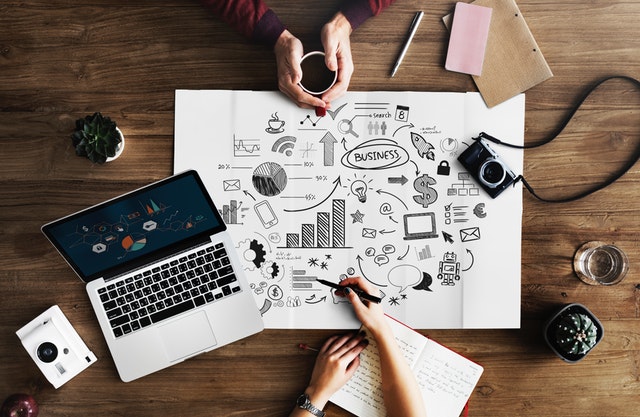 Even in the brainstorming stage of a new business, it's important to work on a  business plan. And, no, you don't have to write this overnight. These types of plans can take weeks or months to develop. There is a lot of research involved and future projections that require accurate numbers and well thought out claims.
I advise you to have this plan even if you never plan to show it to anyone. It's for you to consult frequently to check on your progress and make appropriate changes when needed. Keep in mind, things may not go as planned, but that's OK. Business ownership is a learning experience that makes you stronger as you walk in the trenches.
Know Your Target Audience  
Knowing your target audience or ideal client is a top priority. In fact, you should have a nice break down in that business plan you hopefully have written or are working on. This is imperative if you plan to seek financial help from investors or the bank. They need to know you have this figured out and are on track to market to the right people. 
This will include a full demographic of your location or target customers. Things like age, gender, financial status, marital status, education, social media habits, likes, dislikes, children, religion, careers, and even where they shop for things. I know it's a lot to think about, but fully understanding your market helps you to tailor your outreach and advertising efficiently.
Designing your website, social media accounts, logo, general branding and marketing campaigns around your potential customers creates success. You can even do some polls to find out what your audience wants the most. This is like getting inside their heads.
Know Your Competitors
A part of your business plan should include a breakdown of your closest competitors. Understanding what makes them successful will help you to stay on your toes throughout the building process. Keep this positive and try not to be overly competitive. You could network with these other owners and even do some events together. This is common practice in business and often shows customers that you are a quality person and aren't out to steal business from someone else.
Have a Strong Online Presence
Your online presence, personally and professionally, has a huge impact on your business. Even if you own a successful brick and mortar store, people want to find you online. They want to see who you are before they take the time to drive to your shop and invest time there. Have an effective full social media plan as well as a functional website that actually brings value to the lives of your audience. Be memorable and truly care about your customer's needs.
Digital Marketing and SEO Strategy
These days, it's wise to include a strategy for how to reach your target customers digitally. Though much of the basic SEO musts are easy and can be applied by most users, in some cases, it's necessary to get help. I recommend searching for reputable and affordable SEO services that specialize in your particular type of business. Remember to always keep your digital strategy up to date and relevant to your audience.
Ask for Help
I know it's exciting to get that business going on your own. After all, it's your accomplishment. However, occasionally, we need help to be our best and present the best business in the world.  For instance, if you are terrible at the setup and maintenance of your laptop, computer, or other equipment, consider outsourcing to a company that knows what they're doing. This is just one example. 
Another area in which to consider getting help is finances since they have a massive impact on a startup. Don't feel bad if you are not money savvy and don't understand all the rules loopholes. Outsourcing payroll and basic bookkeeping are the perfect places to start for a young business. You can also use online bookkeeping services like Bench that make keeping track of your business finances easier and more efficient. Bench integrates with payroll platforms to eliminate waste, allowing you to cut back without reducing your budget.