I'd like to introduce a special, new friend, April Morris. She is an entrepreneur, product innovator, and beauty expert with quite a following.  I met April on Facebook, one of the many platforms she uses to promote her product THINgloss and spread the word about her business ideas.  Please read on and learn about what puts this inspirational woman ahead in her business and personal life.
Be well-be beautiful-be happy!
WLL – Who is April Morris?
April – I'm just like other women out there working hard to be the best mom I can be, maintaining work/life balance and staying fit & active, while doing my part to make a difference in the world. I'm a seeker of truth. Master of Change. Researcher. Expert Marketer. Expert Beauty Maven. I feel Grateful and Blessed beyond words. But most of all I have this genuine unconditional love for people in America and around the world.
WLL – What is your life focus at this time?
April – Personal? My health and spiritual growth.
Business? Each year I have a theme. My theme for 2011 is "Value". I strive to provide 10 times more value than I ask for in return.  I have two email lists. One for Beauty Tips and One for Business Success Tips. Sign up for my email list at Expresseffects.com I keep in touch by sending high value content and training through how-to videos, advice and guest expert interviews.

WLL – What is the greatest challenge you've experienced in your life thus far?
April – I've had a lot of "defining moments" in my life, challenges and experiences that changed my life forever. When I launched my business I had no money for marketing. This forced me to be creative. I learned how to spread the word about THINgloss with no advertising budget.
WLL – How do you stay calm in difficult situations?
April – Through my faith & meditation and asking the right questions.  Instead of saying "why did this happen to me?". I ask…
"What do I really want?"
"What choices did I make that led to this difficult situation?"
"What new choices can I make that will result in reaching my desired outcome?"
"What resources are available to obtain the skill I need to reach the outcome that I'm seeking?"
WLL – What advice do you give to women about staying fit, healthy, and beautiful?
April – Diets don't work. Instead, commit to make choices daily that are in alignment with your desired body image.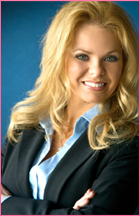 5 Keys to staying fit, healthy and beautiful
– Get your mindset right
– Get your body moving
– Fall in love with good food (low glycemic food choices)
– Use THINgloss 3 times daily as directed
– Keep sunblock on daily
Beauty is a way of being.
WLL – In your opinion, what is the thing that holds women back from their dreams the most?
April – Fear. Fear of failure. Fear of success. Fear of not being good enough. Fear of not enough money. However, Fear isn't real. It's a story we make up in our mind around "what might happen if…". Once I became aware of this in my own life, I was able to make decisions based on facts not fear. This is how I went from being a teenage mother with a GED, earning $6 bucks per hour to owning a company and having my product sold in stores throughout America.  I've been a featured guest on: FOX, NBC, ABC, and the Los Angeles Times. It's been a humbling experience. I'm just a small town girl from Alabama with a passion for helping women look and feel beautiful. If I can do it. Anybody can do it.
WLL – What advice have you received from a woman mentor (mom, grandmother, teacher, etc.) that you still adhere to today?
April – During a visit with my "Maw Maw" (a southern term for grandmother) at her home in Haleyville, Alabama, I asked her what important advice she had for us and future generations. And her answer was this: "It's all about love. Love one another." My Maw Maw passed away in 2009, but she left an imprint on my heart though her example of unconditional love. I realized love is a power so great it can manifest miracles.
WLL – What was your inspiration for your company? Here's the story behind THINgloss.
April – In December 2002, I attended a Christmas party. The host of the party shared with me that two ladies (I had met at the party) referred to me as "chubby". At first I was angry but that quickly turned into disappointment, because I remembered getting ready that night and my clothes fitting too tight. I immediately began taking diet pills. I wondered if there was another way to curb my appetite. Sometime later I was driving in my car and, while sitting at a red light, I began to reapply my lip gloss in the rear view mirror. That's when the idea came to me. I wondered if there was a smell or herb that could be put in lip gloss that might help curb appetite. I became obsessed with discovering how to develop my idea. I figured it out and THINgloss launched in 2008!
WLL – Tell us about your One Woman: One Million project.
April – My experiment began on July 1, 2009. I was very curious. Some self help gurus say that it's possible for ordinary people like us to become millionaires. So I wondered if one woman committed to learning from these experts if she could become a millionaire too.  I spend 1-3 hours daily learning from the top experts on marketing, sales and branding. I began this journey with an open mind with hopes of discovering a breakthrough that I can one day share with other entrepreneurs.
WLL – What does success mean to you?
April – Freedom. Contributing on a greater scale. Learning the lessons along the way. To much is given much is expected.
WLL – Any regrets?
April – Yes. I regret not spending more time with my kids when they were younger. I worked all the time.  This realization and shift in my priorities came later in life after my daughter was in a car accident at age 15. I now put God first. My Family. Then my career.
***Please leave some Life Link Love for April and thank her for sharing her story with us.  For more information about April Morris and her amazing THINgloss product, visit her website, Thingloss.com

Also, watch for April to appear on "Shark Tank" on ABC Television on April 15, 2011 8pm EST (check local listings)