To my personal dismay, I have never been a person who sleeps well most of the time.  Because of this fact, I have suffered in many ways, including the implementation of creative endeavors.  Though I do manage to work through most creative projects…eventually, I know and understand the difference between that which flows after a good night's sleep and the polar opposite that comes following a restless night.  Here's the deal:  Our bodies heal and  restore on all levels during periods of deep sleep.  When we don't reach this restorative level of rest, we are (for lack of a better terminology) robbing Peter to pay Paul.  It takes energy to think, create, move, and operate body systems.  Simply put, no sleep…no energy.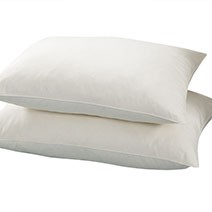 Though there are countless reasons we can suffer from insomnia or poor quality sleep, I've come to know that it has a lot to do with the mechanics of your bed (comfort level).  I have only had one perfect pillow years ago and have never found a replacement for it…until now.  Recently, I was introduced to a company that offers products that create a platform for quality sleep.  Maggie's Direct is an online shopping site that sells high-quality bedding and home products at stellar prices.  After receiving a feather down pillow from them to expedite this review, I realized how the aged state of my old pillow had been affecting my comfort level and my sleep.  My neck is extremely sensitive to improper positioning, so the new pillow definitely helped me achieve the type of comfort required to get some ZZZs.  I've used the Maggie's Direct pillow now for over three weeks and am more than pleased with the results.  I've had less neck pain and have felt that "energy" I spoke of earlier.
For the point of this article, I'd like to explain how this change in my sleep pattern has helped my creativity.  I reach creative peaks much more quickly than prior to using the new pillow.  I'm actually remembering my dreams again (this is huge for me and how I create).  It also helps that I now look forward to going to bed instead of sitting up for hours, producing low-quality ideas.  This one pillow is raising my awareness of how important good sleep is for everything we do.  It may sound silly if you've never had sleep issues, but it's a life-saver for me.  I can't wait to try some other products from Maggie's Direct!
Be Beautiful-Be Creative-Be Happy!