I don't normally share a lot about shopping sites, but one in particular impressed me so much that I have to tell you all about it. The site Novica.com is an international shopping site affiliated with National Geographic with a mission "to give artists and artisans around the world a global platform to express their true artistic talents, to spur their creativity" and to bring that talent to your doorstep.  They have a vast assortment of clothing, jewelry, and home goods handmade by artisans from developing countries.  I was graciously gifted a gift certificate from the company in order to experience the process and the beautiful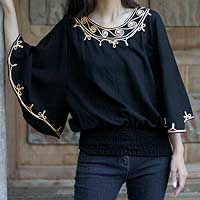 products for myself.   And, yes, they have a new customer in me!  From the very start, I was thrilled with the site's layout, the ease of navigation, and the selection.  The purchase page was equally fast and efficient…no problems at all!
The two items I purchased were both clothing and were from separate locations.  This meant they would not arrive together.  No problem!  I actually received both things faster on a basic shipping rate than what I have items shipped within the US.  How is that possible!  It's called superior customer service.  Here's the best part.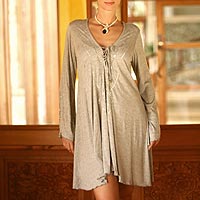 Both clothing pieces arrived well packaged in boxes (not those shipping envelopes), hand-wrapped tastefully, and with a message about the region and artisan who made it (see photo at top).  One of them even came with a handmade finger puppet as a package ornament.  WOW!
I have no problem recommending this site to anyone who wants a fabulous shopping experience.  Imagine how excited your loved ones will be to receive unique gifts from around the world.  Count me in, Novica!
For more information about Novica.com and the work they do, visit their Mission page on the site.  And while you're there, buy something fabulous for yourself or as a gift for someone else! It's a perfect place to find gifts for mom, dad, friends, spouse, or just about anyone who appreciates fine, handmade items from around the world!
Be Beautiful-Be Creative-Be Happy!