We are constantly bombarded with ads for beauty products or creams that supposedly defy aging. Unfortunately, most of them deliver less than they promise and have high price tags. Trial and error becomes a drawer full of "mistakes" while your skin still begs for help. Though there are some things that natural products don't do, I enjoy finding ways to pamper my skin with things from my kitchen or simple tools. Here are some of my favorite all natural beauty tips for any skin type.
All Natural Beauty Tips For Any Skin Type #1:
Use Tea Bags For Puffy Eyes
If you are prone to getting puffy eyes, use chilled tea bags to stave off red, swollen eyelids. This method works quickly and costs mere pennies compared to expensive creams. Use a tea bag that has been in hot water to activate the tea. Place it in the fridge until it cools down. Then you simply place it on the eyes for a few minutes after a hard day or just to relax. 
All Natural Beauty Tips For Any Skin Type #2:
Massage Your Face
Facial massage is amazing to help release stress and toxins. It revitalizes your skin by promoting good circulation and tone. You can do it yourself with your fingers or find the best face massager to work a little deeper. Professional massage and facials can be very beneficial, however, you will be back to spending a chunk of change. I like to use grapeseed or coconut oil for facial massage as it doesn't seem to clog my pores or cause breakouts.
All Natural Beauty Tips For Any Skin Type #3: Hydrate Well
Staying hydrated on the inside and outside is so important if you want dewy looking skin. Start each day with a least one glass of water and drink throughout the day. Some women experience positive changes in their skin when they consume more water. I, myself, have a great response to drinking at least half of my body weight in ounces a day. I also love natural unsweetened coconut water and use it in smoothies and as a refreshing drink. You can also spritz it on your skin for a fresh, dewy look anytime. 
All Natural Beauty Tips For Any Skin Type #4: Reduce Sugar Intake
Another natural way to take care of your skin is to reduce the amount of sugar you consume. Sugar contributes to inflammation and can make wrinkles, redness, and acne worse. Look for added sugar in places you wouldn't expect it. Things like salad dressing, ketchup, peanut butter, and even "healthy" drinks and snacks can contain a lot of sugar. Eat whole foods that have not been processed to clean up your diet. 
All Natural Beauty Tips For Any Skin Type #5: Use Aloe Vera to Soothe Skin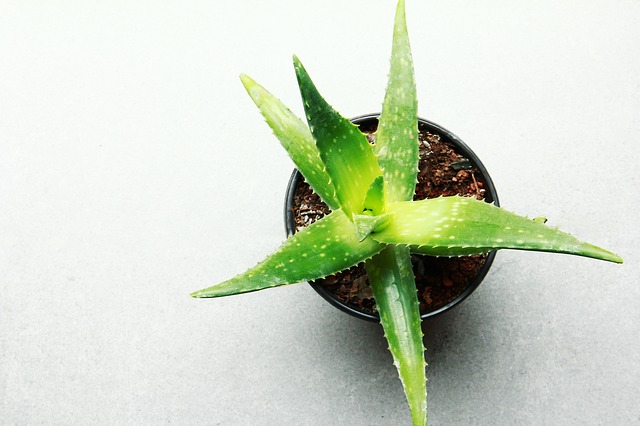 If you have cracked, dry, irritated or damaged skin, aloe vera can significantly help to heal these skin ailments. I use the gel right out of my aloe plant. Sometimes, you can get large cuts from the plant at your local farmer's market or grocery. It's smart to keep some around for sunburn or other types of burns as well. For vibrant skin, use aloe vera as an ingredient in a homemade scrub or toner.