I was recently introduced to up-and-coming NYC musician, singer/songwriter, Kalen Lister and thrilled that she agreed to do an interview. As soon as I listened to her music, I loved it!  It's bold and fresh, in your face and demure, all at the same time.  Kalen is a session vocalist at Tainted Blue Studio and for Equal Sonics. She is currently writing and co-writing songs with some of New York City's best rising writers and producers, developing her catalog and licensing her music for film, TV and multi-media. On the rare occasion she has the time, she plays keys and sings in NYC based bands; such as, Missing Ships and Stone The King.
Kalen On Giving Back
Not only is Kalen an extremely talented, fire ball musician but is also a woman with an agenda- one that we all should pay attention to.  Her dreams include empowering young women, reaching them with messages of love, power, and to go for their dreams.  Kalen works with nonprofits, like Girls Inc., doing workshops that give young women tools to rise above circumstances and stand tall in this world. "It is inspiring, to use the skills I've developed as a songwriter to help other people create songs as vehicles to express their dreams, doubts, fears and loves," she said with an endearing smile.
"I'd like young women to gain a sense that it's possible to be both vulnerable and powerful, feminine and strong," Kalen offered when asked what she'd like young women to gain from her music.  It's easy to see both sides of her (the feminine and strong) by looking at her and simply listening to her alluring songs.  An edgy vibe marinates her soft and giving heart, a recipe that marks her as something special.  "I love the ripped clothes, the chains, and the flowers and femininity. I love bringing them together, marrying the gentleness with the edginess. These things make women special, we can be romantic and bold."  True beauty to her is having a sense of self, kindness, bravery, and loyalty.
Kalen On Goals, Dreams, and Inspiration
Kalen's main life goal is to have a full, happy life. For her that means a lot of art, collaboration, travel, giving back and love. She would like a family one day, but her focus is on her own personal and professional development at this time.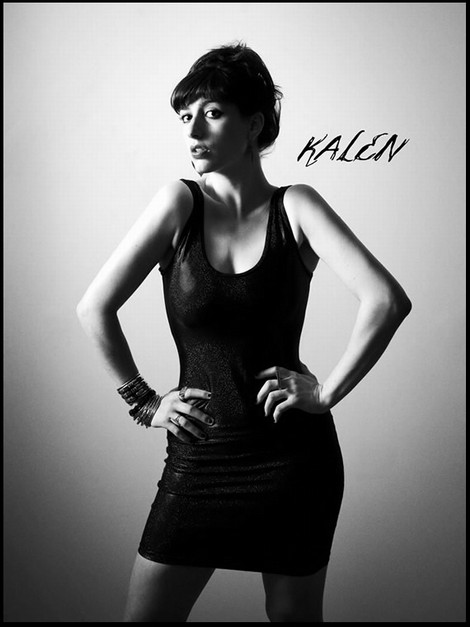 "My career dream is to be able to tour the world with my music and actually make a living from it." With inspirational people in her life; such as, her mother, sister and two mentors: Cari Cole and Pamela Maraldo, she doesn't lack support and encouragement.  "I'm inspired by fearless people. I'm inspired by people who shed light by the way they are and how they act. I'm inspired by people who take risks and don't give up," Kalen said.  Art (particularly painting), novels, and poetry also get this young creative's juices flowing.
Kalen On Adversity
"What has been the most difficult thing to overcome in your life?"  I asked.  "I've had to overcome a feeling that I am not worthy of being successful," she revealed, "I am still overcoming it by committing to myself and my vision. I think this is a feeling that many people have, but it's a type of self sabotage that seems to be more common with women."  She admitted to being too hard on herself and wishes she could change that. With that answer, I knew Kalen was a kindred spirit to me, to Women's Life Link. No regrets, though, other than fretting and being too anxious.  "They are creativity killers!" Kalen confessed.
Kalen On the Future, Past, and Present
Her optimism for the future and the world shines through her lovely smile and real-life lyrics. She hopes that future generations look back and are able to say that we helped to make things better for them.  A likely scenario with artists like Kalen pushing for a peaceful, more harmonious world. "Remember to support one another.  The time is now," Kalen said openly to this generation.  "We must move through successes and mistakes to learn about ourselves. I've had a lot of both. I can't change the past, so I try not to get too hung up on things I could have done differently. She is also thankful to the women of past generations for breaking through the glass ceilings of their day and carving the way for equality and freedom of expression she savors today.
←See Kalen's Video Rabid Girl in the left sidebar.
She leaves us with this:
"It takes a lifetime of lessons to learn, all we should know from the start. It takes a lifetime of logic to teach, all we should trust's from the heart."
The Giveaway

For more information about Kalen and her music, go to her website Kalenmusic.com.  She has graciously offered to giveaway 3 copies of her CD, Fallen from the Sun

for our Grand Relaunch on Saturday February 9, 2013.  You can enter by leaving a comment on this post or stopping by our official Facebook page and saying hey!  We have been told Kalen will make an appearance!  We will also have links to her music there! Winners are chosen at random and will be notified by email. The giveaway expires at 11:59 pm EST Sunday February 10, 2013.
Additional Entries
Please leave additional comments for each action
Like us on Facebook- 3 entries (lower right corner in footer)
Like Kalen on Facebook- 3 entries
Follow us on Twitter- 3 entries (lower right corner in footer)
Follow Kalen on Twitter-3 entries
Pick up our RSS Feed- 3 entries (lower right corner in footer)
Subscribe to our Newsletter-5 entries (upper left hand sidebar)
Blog about our site, relaunch event or this giveaway- 10 entries
For more details on the Grand Re-launch event and the giveaways, check out this post.