Alex Wrekk started roasting her own coffee in 2005 for herself.  It wasn't long until those around her took notice of her obvious gift for making a mean bean that could stand up to the best out there.  Living in the Northwest, Alex knows the competition well.  However, she doesn't worry about that.  She spends her time just creating, selling, and loving the life she lives with Paul, the love of her life, in their 100-year-old home in Portland.  Like many other artists, she takes pride in what she offers to customers whether its in the uniqueness of her quirky buttons, zines, or in the quality of her coffee, as I had the pleasure of discovering recently.
The Attraction
One of the reasons that I contacted Alex was because she uses only fair trade and organic coffee to create her specialty blends.  This is something that is quickly becoming important to me as I seek to live a healthier life.  And, there's no way I'm giving up my coffee because major companies don't know how to leave out the pesticides and fillers.  Alex's coffee is affordable, too, not to mention the awesome company name of Brainscan.  =) Read on.
My First Organic Coffee
You must know that I am a coffee junkie and one who knows a good bean when I taste it.  The first thing I did when I received her samples was smell the package.  Immediately, I noticed a rich and robust scent that made my senses come alive.  You coffee drinkers out there know what the mere scent of coffee does to you.  Second, I brewed the first sample, which was the Ethiopian variety.  While it brewed, I again took in the aroma that teased my desire to drink it.  I was not disappointed in the several cups that came after that.
With my cup full of the java, I sipped it without adding milk.  I needed to know what the true flavor was before making it my own.  Surprisingly, I didn't want to add the milk.  Black coffee?  Not something I normally have or even like.  Your first A+, Alex.
The second flavor was the Small World variety that wasn't quite as bold as the other but suited my taste.  I'm an espresso kind of gal, so the stronger the better.  This one is a great every day coffee that I would be happy to serve to guests – definitely for those who like it milder.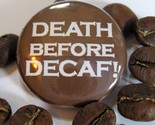 You must take a look at her offerings at Etsy.com to truly appreciate her unique talents.  I look forward to trying some of her other coffee varieties and even picking up a couple of cute buttons for my fridge, especially the one that says, "DEATH BEFORE DECAF!"
Giveaway
Alex is giving away a pound of her best coffee to one lucky reader.  The coffee will come in the gift basket of other organic products that we are reviewing this month.  You can enter to win the prize package valued at over $100 by doing any of the following:
1.  Visit Brainscan's website and come back here to share which product you would most love to have.
2.  Follow Women's Life Link on Twitter.
3.  Pick up our RSS Feed.
4.  Stumble this article.
5.  Comment on any of the other reviews we did this month:  Red Leaf Tea, Aroma Artisan.
Photo by Pelekes