Every year you may wonder what in the world to get the men in your life.  Well, we want to help!  I found some great men's products to consider.  Since we are all about health and wellness around here, I thought it appropriate to seek out some items that just might be a little more healthful for him than a huge tin of caramel popcorn, an 18″ Hickory Farms smoked sausage, or a gift certificate for the buffet – you know…the one that makes him groan with gluttonous delight?  I thought you'd know that one.
Not Your Ordinary Personal Care Products
Check out the Botanical Leave In Conditioner by Joyful Girl Naturals – talk about easy, and what a bargain at $7.95!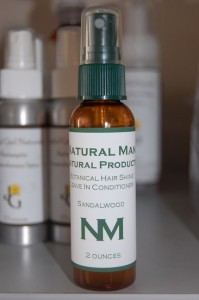 After Washing hair, spray in hair conditioner, style and go.  It's made with all natural ingredients to keep your hair looking great and keeping it healthy.  Great for Dreads too!   Neutralizes odors, keeps hair hydrated.
Made with pure hydrosols (steam collected at distillation process of herbs and flowers) and botanicals.  Keep frizzy, unruly hair in place and manageable with any of the fabulous scent choices:
♦Lavender and Cypress
♦Cedarwood and peppermint
♦Lemongrass and Sage
♦Sweet Orange and patchouli  (My favorite combo)
♦Sandalwood
Or this…
For a product nothing short of simple and refreshing, try Yogi Farm Girl's men's aftershave, $12. 
A fresh herbal aftershave made from an infusion of healing skin herbs which are then combined with vegetable glycerin, witch hazel, aloe vera gel and essential oils.
This is very concentrated so it is recommended to use about a tablespoon in a basin of water and splash on face. It is packaged in an 8oz amber bottle to protect the essential oils. This 8oz bottle lasts for quite a while.  Also, they do not use any preservatives in their products that are not nature-based.
***Look for Yogi Farm Girl's new men's shaving soap that I will feature very soon!  Be among the first to try her fabulous creation!
Or this…for the beer lover in your life.
Beer, used since the middle ages for bathing, gives rich B complex vitamins, biotin, pantothenic acid, and trace minerals to make skin smooth and supple as well as providing incredible lather! They've added Bentonite to make this a shaving soap as well.
Give as a gag gift and see that the laugh will be on them. The guys will love the novelty of the soap – but fall in love with what it does for their skin! Rose of Sharon Acres, $5.50.  My husband is trying the Sensuous Man's Soap!
***Pick up our RSS feed so you don't miss our Holiday Gift Tips over the next week or so.  None of the vendors we have highlighted here have compensated us monetarily.  They have provided free samples for us to try so we can give you our honest opinion!  Be well-be beautiful…and give good gifts!
Heading Photo by Punani (Congrats, Punani, on having the first photo of a man on our site!)