It's not always possible to get to the salon or spa for many reasons. Perhaps, it's money or time that keeps you from pampering yourself properly. I completely understand but have realized that I can supplement those spa treats with my own form of self-care at home. Receiving the goddess treatment is really a mindset more than anything. You merely have to decide that you deserve to feel and look your best. But, hey, if you're strapped for cash and have limited time, you can do this thing at home and at a fraction of the cost. Here are some of the best ways to turn your home into a luscious spa!
Turn Your Home into a Luscious Spa #1:
Your Bath Is Magical
If you only have a short time to yourself and want to make an impact on your pampering plan, nothing beats a long, hot bath for relaxing. Hot water relaxes muscles, relieving stress and numbing pain. Not to mention if you add some goodies to that water. For your relaxing bath, consider adding Epsom salts, sea salt, essential oils, and even your favorite flower petals to increase the healing properties.
If you want an even greater spa experience, try to reduce stress with a hot tub. You could also buy a whirlpool bath that uses water jets to provide extra relaxation.  Keep in mind, these types of baths aren't cheap and you might also have to pay extra for plumbing and installation. 
Turn Your Home into a Luscious Spa #2:
Try Aromatherapy
Aromatherapy is one way to create a beautiful experience in your own home.  A number of scents including lavender, chamomile, jasmine, and pine have destressing properties. These scents also improve sleep quality and concentration. There are many inexpensive ways to add scents to your home. You could simply try owning plants to release these scents naturally.
Alternatively, oil diffusers are an efficient way to release your choice of scents. You can even mix oils to create a unique blend just for you. Other ways to release scents include natural air fresheners, scented candles, and incense sticks. You can place these scents in key rooms, where you're likely to relax or place them all over your home.
Turn Your Home into a Luscious Spa #3:
Use Ambient Lighting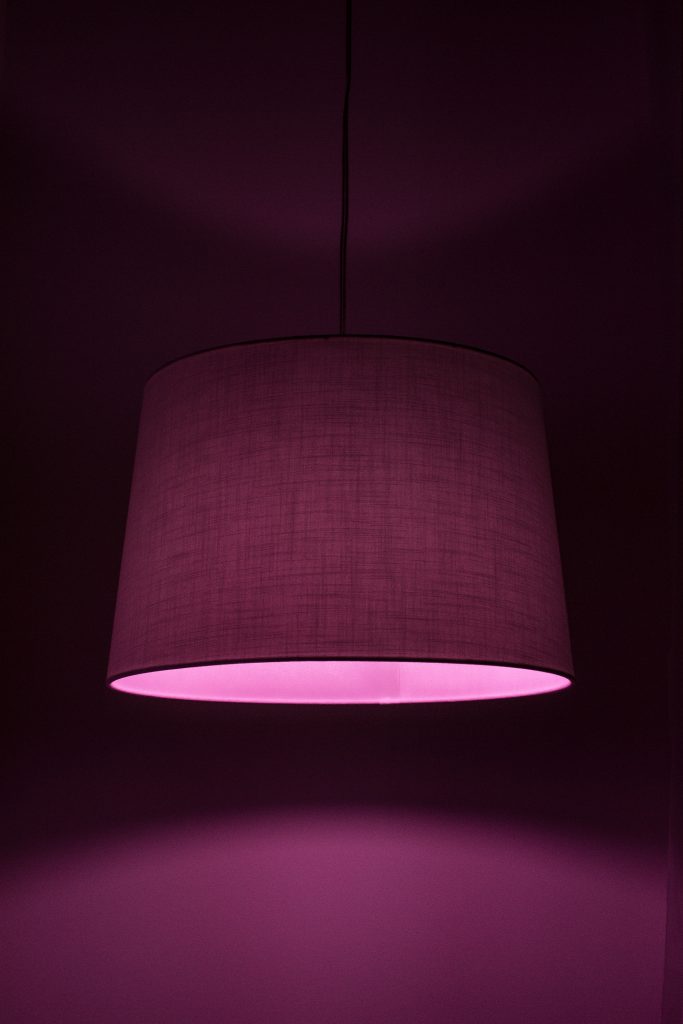 Ambient lighting is the purposeful placement of mood-changing, environment lifting light.  The first question to ask is "what do you want to feel in your space?" and also "what is the best type of lighting and the best place to put it to create that mood?". It's also possible to dim certain overhead lights to help provide a sense of calm. For specific mood enhancement, try small spots of light throughout the room. I love to use soft, colored bulbs to create certain moods.  Salt rock lamps and candles also provide visual appeal as well as a spiritual lift. 
Turn Your Home into a Luscious Spa #4:
The Art of  Color and Placement
Certain colors can provide a more calming vibe, but the placement of objects in your space can also do wonders. This type of strategic arranging is called Feng Shui. To this day, it remains one of my favorite ways to bring peace, abundance, and clarity into my home. I won't get into the deets about it here, but you can certainly find some good info online.
Keep in mind, cool colors such as blue, grey and green are ideal for adding a sense of tranquillity. Meanwhile, reds and yellows may provide the opposite effect, creating a burst of energy – this may not be ideal if you're trying to create a calming vibe in your home. 
Turn Your Home into a Luscious Spa #5:
Increase Comfort with the Right Equipment
Owning comfortable upholstery is important if you want to create a spa-like feel in your home. Again, decide what you want to feel in your space. One way to truly make your home feel like you're getting a pro spa treatment is to invest in some equipment. How about massaging armchairs and massaging office chairs? We actually own a massage table, so we can do comfortable massages at home. Even something as simple as a memory foam bath mat can make a difference in how you feel after your daily shower or bath.
Let's talk beds and bedding for a sec… Are you comfortable in your bed? Do you feel pampered and relaxed there? If not, maybe you could start with a new mattress and sheets. Additionally, you could buy yourself a heated mattress protector that you can switch on when it gets too cold. 
With all of these suggestions, you can choose to do them all or one at a time. I have built up to the space I want over time because of budget and time considerations. If you work on it consistently, though, it will get there! Make it your own and enjoy!