More Out of Monday: Beauty Tips
By Kellie R. Stone (Journey Coach)
Finding Your Style (Inside and Out)
When it comes to showing the world who you are on the inside you may have no trouble.  However, the outside dawning of a style that compliments what's going on in your mind and heart tends to plague even the most confident of women.  Portraying a personality, whether it be fun-loving or somewhat demure, takes a little thought and planning.
I've recently made some fairly drastic changes to my look with a new, bold haircut which stands out even more being platinum blond.  I've worn this style before but for some reason avoided it for a long time.  I am every bit confident enough to wear it; I have a fun, vivacious personality; why, I wonder, did I neglect that important side of my self-expression?  The answer to that question lies in the disconnection between my inside self and my outside self.
You Have to Be Ready
My beautiful daughter told me at least several times over the past year that I should go blond and short again.  A part of me knew that she was right; the other part cringed at the thought of losing my longish bang that I could hide behind.  I would be noticed again…maybe that was the problem.  Anyway, I ignored her suggestion for much longer than I should have…until this week.
Something just clicked, and I knew that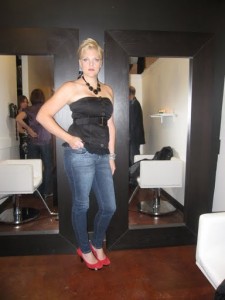 I was ready to make the change.  My enthusiasm mounted as the day of great change approached.  I was really going to do it!  And I did!  The whole experience left me invigorated and ready to handle new challenges and projects.  It's strange how that happens when you release what's inside on the outside.
Over the next few weeks I'm going to write about this transformation in a little more detail.  The emotional part of this is important as well as the physical.  I'm now in the process of changing some other things to make that connection to the release of the Kellie who's been dying to come out and play.  She's arrived!  I'll post photos as I discover some fun, new clothes, makeup, and accessories.  If you don't already, please pick up out RSS feed so you don't miss a beat.  Until then, be well-be beautiful.
Photo by Animechic1029